photo credit: EA SPORTS FIFA FIFA 12: Man City's Silva on the ball via photopin (license)
Fans of FIFA, the biggest football game in the world, will see the release of FIFA 18 during September 2017. During the release period, EA Sports has announced that they will launch the largest ever FIFA eSports competition.
For the first time (!), the Real Madrid star Christiano Ronaldo, will feature on the cover of the most popular football game on the planet. It will be released worldwide on Friday September 29. Fifa will be available to buy on Xbox 360 and PS3 as well as Xbox One, PS4, PC and Nintendo Switch.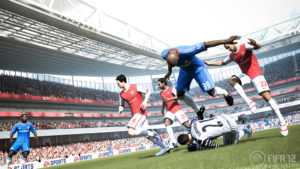 photo credit: EA SPORTS FIFA Fabianski save via photopin (license)
Ways of competing
Players from all over the world will be able to participate in the FIFA world championship. There will be four different ways to compete, this way making it accessible regardless whether you are a Playstation 4 or XBox One player. Not much has been revealed about the competition, but one of the ways to compete is to be battling it out with your favourite real-life team in an official football league competition. And Ultimate Team Championships Cups will let anyone qualify for the chance of winning the trophy. With the competition lasting throughout the whole year, there will be plenty of opportunities to watch several events!
There's a lot of money on the table compared to other eSports leagues and it goes without saying that EA and FIFA chipping in their share to make the competition grow. After all, it's the perfect marketing channel for a games developer.
Time will tell whether the competition will be as big as the hype says or not, but the potential is massive due to the nature of football. The world is already waiting for it!